This website opened in 2014 and is devoted to the Life and Work of Arthur Norman Prior (1914-69), the founding father of temporal logic. Furthermore, the website is one of the main news channels for the research project The Primacy of Tense: A.N. Prior Now and Then, funded 2016-2019 by the Danish Council for Independent Research | Humanities. DFF|FKK Grant-ID: DFF – 6107-00087. For further information on the research project: www.prior.aau.dk
The following ressources are vital for research into the Life and Work of Arthur Norman Prior:
Nachlass
The Nachlass of A.N. Prior
Papers by A.N. Prior as well as letters by A.N. Prior and contemporary researchers with whom he corresponded, not previously published, but now transcribed and proofread as a result of the work in The Virtual Lab for Prior Studies.
Virtual Lab
Publications
Engerer, Roued-Cunliffe, Albretsen, Hasle: The Prior-project: From Archive Boxes to a Research Community (long paper)
Presented March 2017 at Digital Humanities in the Nordic Countries, 2nd Conference, University of Gothenburg, Sweden.
Published in Book of Abstracts, ISBN: 978-91-88348-83-8 (PDF)



Special Issue of the periodical Synthese, Volume 193, Issue 11, November 2016, entitled The Logic and Philosophy of A.N. Prior
(eds. Jørgen Albretsen, Per Hasle, and Peter Øhrstrøm), preface and 25 articles. DOI: 10.1007/s11229-016-1240-8



Further information
General information on A. N. Prior,
for instance:
Bibliography of A. N. Prior (in two parts).
Description of the material. Prior's papers, notes, correspondence, etc. kept in the Bodleian Library, Oxford.

A lasting memory of A.N. Prior is now the Prior Centenary Conference, which was held at Balliol College, Oxford, August 20 – 22, 2014.
The following link is to the conference website, now kept for reference.
Arthur Prior Centenary Conference, Balliol College, Oxford, August 20 – 22, 2014
---
Priorstudies
YouTube Channel!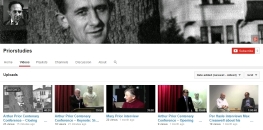 Click image to watch videos from
the Arthur Prior Centenary Conference,
Balliol College, Oxford,
August 20-22, 2014